Design & Integration

Go further
FeelInGlass® proposes to turn your inspiration into reality.
Our pluridisciplinary team accompanies you in the definition of your project until the achievement of the final product.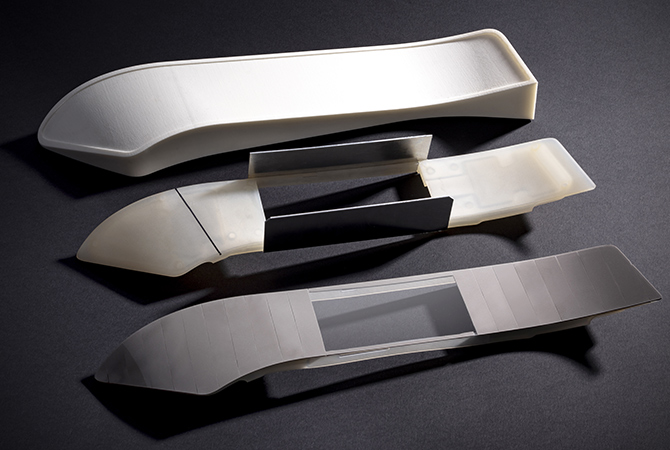 Co-design
Let's give life to your projects and shape to your ideas.
When you share your project with our team members, we can reconcile your constraints and aspirations, to arrive at the solution that suits you best. By combining your ideas with our expertise, this collaboration uncovers the best possibilities while respecting the technical, ergonomic and aesthetic constraints.
Don't hesitate to challenge us with your project!
Virtual Prototyping and Model
From ideation to realistic renders.
Our rendering process allows us to provide a realistic preview of the final product while avoiding the time and cost needed for the production of a complete part.
We generate photo-realistic images based on a large database of physical datas predicting the final appearance.
This is how we can detect potential constraints such as reflections, or produce a convincing embodiment of a new glass treatment.
Realistic renders
Realistic renders allow for example a fast comparison of surface treatments on glass, like anti-glare and anti-reflective treatments.
Technology integration
We want to find the best match between constraints of integration and needs in optical performance and aesthetic, so as to create the best immersive experience.
We collaborate closely with electronic engineers dedicated to the integration of new elements in infotainment systems, like audio glasses, haptic and lighting modules.
Haptic improves the touch feeling of your screens
A touchscreen with tactile feedback gives new dimensions to screen interaction.
This haptic technology can create the sensation of actually touching physical buttons and switches. Synchronising sound, image and touch makes your devices more intuitive and functional. This technology is compatible with all types of touchscreens, helping users to improve their performance, productivity and security.
Audio Glass pushes the boundaries of your possibilities even further
Thin glass can pick up vibrations and transmit them in the form of sound.
It's up to you to exploit all the properties of glass with sight and sound, by combining this with our decorative products.