Design & Integration

Go further

FeelInGlass® proposes to turn your inspiration into reality. Our team of engineers and designers will be only too delighted to meet your requirements and find the best solution to reach your target.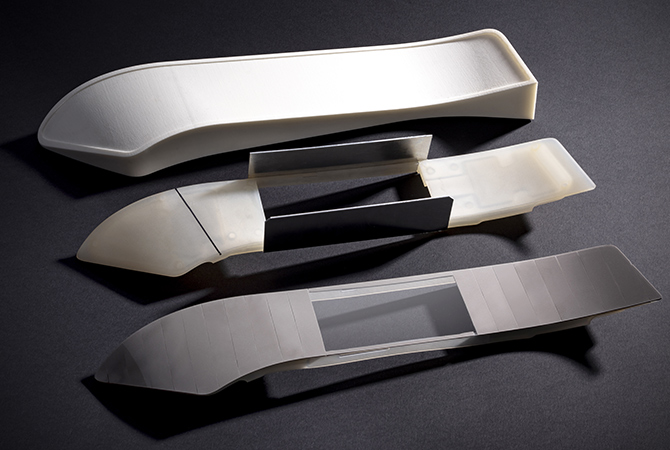 Co-design
Let's give life to your projects and shape to your ideas, in synergy with glass professionals, thus reducing your time-to-market and enjoying the full range of experience available from our partners.
When you share your project with our team members, we can reconcile your constraints and aspirations, to arrive at the solution that suits you best. By combining your ideas with our expertise, this collaboration uncovers the best possibilities while respecting the technical, ergonomic and aesthetic constraints.
Don't hesitate to challenge us with your project !
Virtual Prototyping and Model
We can show you how the project will look, before it actually takes shape. We simulate photo-realistic images based on a large database of physical renderings predicting the final appearance, detect potential constraints such as reflections, or producing a convincing embodiment of a new technology.
Your prototype enables the ideas to converge more quickly, arriving at the best solution while avoiding the costs of producing multiple samples.
Moreover, we confirm your expectations based on a completely functional model, reflecting the finished product in mass production.
Technology Integration
Discover new sensations thanks to glass. Our integrated technologies now make it possible to enjoy an immersive experience. Thin glass can accommodate not only visual appearance but also touch and sound, in fact all the technologies that we find in our daily lives, at home or on the move. Now you can be master of your surroundings!
Here we present only some of the possibilities that we offer: don't hesitate to challenge us with your own ideas.
Haptics improve the tactile feel of your screens
A touchscreen with tactile feedback gives new dimensions to screen interaction. This haptic technology can create the sensation of actually touching physical buttons and switches.
Synchronising sound, image and touch makes your devices more intuitive and functional. This technology is compatible with all types of touchscreens, helping users to improve their performance, productivity and security.
Audio Glass pushes the boundaries of your possibilities even further
Thin glass can pick up vibrations and transmit them in the form of sound.
The technical, ergonomic and aesthetic capacities open up new opportunities. It's up to you to exploit all the properties of glass with sight and sound.