In a collaborative effort, International Automotive Components Group (IAC) and AGC Automotive Europe, through FeelInGlass®, have come together to join their expertise towards a common project. Initially introduced during the 2019 edition of the Consumer Electronics Show (CES) in Las Vegas, it turns out to be a visionary concept of what glass is capable of within a door panel.
The genesis of the StreetSmartDoor project comes from a straight ascertainment: the driver's side door is well suited for technology integration, thus functions at hand. Therefore, it was necessary to implement ergonomic solutions while matching high standards in aesthetics. Automotive interiors being considered as an extension of our daily environments, the overall UX has to match appropriately with current usages.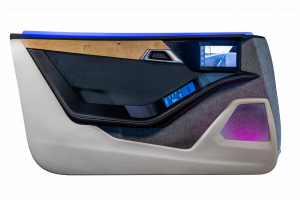 "Quitting glass flatness"
Since a door panel structure is commonly made from curvatures, the challenge for glass is to fit the shape accordingly, allowing for free forming. The recourse to thin glass is somehow a necessity when we consider display integration since it allows for wide possibilities in terms of performance. Also, the overall completion of the concept is made possible with hot bending and seamless integration of components which brings homogeneity and premium feeling to the door.
The mix between entertaining and functional features was the key to find the right balance in what needs to represent the next flagships in ergonomics for door panels.
"Introducing pioneering features"
In order to prevail as an ADAS component and support, the door panel is equipped with different technological pioneer functions seamlessly integrated thanks to the usage of glass.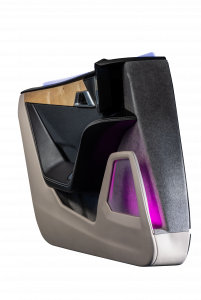 The digital armrest provides the driver with intuitive functions to prevent any inconvenience of attention. Indeed, the tactile surface coupled with haptic feedback brings a complete set of safe device to use while keeping the eyes on the road. While being capable of displaying several functions, the armrest display acts as an interface with the driver to ease the way of interacting with the car at your fingertips.
On the other hand, as displays are more numerous within car cockpits, it becomes necessary to rationalize their usage. Technologies like the digital side-view mirror (DSVM) have been more represented in recent car releases and it raises the question of bringing the glass back to the inside. The curved cover glass is coated with both anti-glare and anti-reflective to display clear and accurate information at a glance to the driver on the 7″ OLED screen.
It was also for FeelInGlass® the unveiling  of the first audio glass system, a unique feature for automotive interiors. It consists of an all-in-one audio system composed of interlayered laminated glass coupled with an exciter, in order to spread a wide range of frequencies over the glass surface. It results in an immersive in-vehicle sound experience while matching several complementary aspects of cockpits' features: light weighting, space saving, differentiated aesthetics, sustainable design.
Meanwhile, the project is still relevant, since its features still match current needs in terms of comfort, safety and ergonomics for automotive interiors.
FeelInGlass® pursues its efforts of providing innovative demo concepts to align with future trends and to offer a differentiated approach to its partners.
Find out more about the project at: www.streetsmartdoor.com